Profile
EVER LIGHT BUILDING MANAGEMENT SYSTEMS (ELBMS) is a subsidiary of Ever Light Electricals, an electrical systems specialist with over 35 years of experience in designing and installing electrical and mechanical systems.
Having recognized the evolution of market demands and its increasing movements towards sustainable, eco-friendly solutions, ELBM SYSTEMS was founded and embarked into operation five years ago. Though we are a young company we are very ambitious and aspire to be the best in what we do.
In line with our passion and commitment to contributing towards the conservation of a greener planet:
Our Vision is to be a specialist in efficient Energy Management Solutions in the Asia Pacific Region and continue to expand our operations.
Our ultimate Mission is to help individuals and organizations optimize their energy usage, maximize productivity and make operations more sustainable.
We are an integrated company leveraging technology to minimize energy consumption through affordable, accurate systems, providing consultancy services designed to help our clients operate their facilities in the most efficient and economical way possible.
ELBMS is committed to evolving therefore is consistently seeking to penetrate new markets and technologies.
We approach leading suppliers for quotations with the aim of procuring the very best prices and agreement to suit our clients' requirements.
Having UK based operations allows us to access best practice suppliers, technicians, and benchmark high standards.
Market
Home Owners
Private property owners who wish to secure savings on household energy bills and increase home security systems to ensure that your family and personal possessions have that extra security.
Businesses
Who has environmental sustainability and cost reduction high on their business agenda and wishes to identify long term economic energy solutions by reducing hidden costs and aim to make investments on modern building management systems in line with their long term business goals.
Property Developers
Residential developers who wish to create technologically intelligent, properties of the next generation, catering for green aware and tech savvy consumers in an effort to working towards a more sustainable future.
Process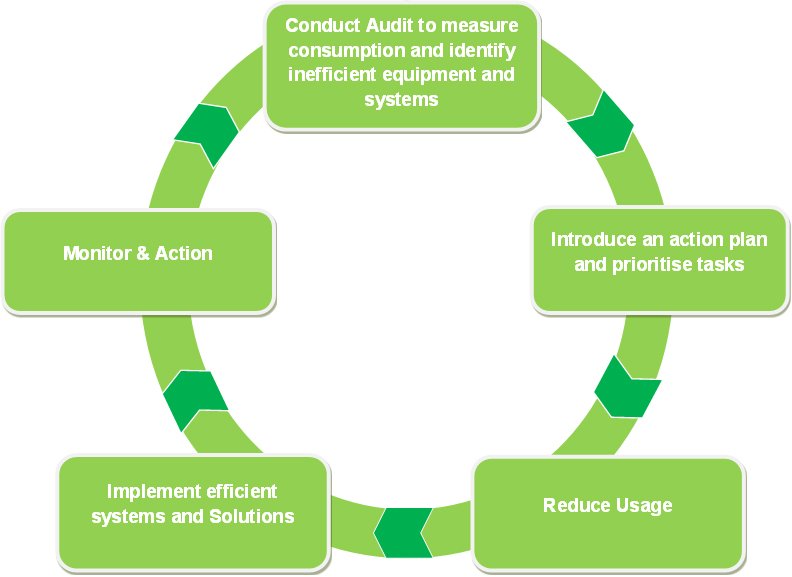 Work Completed and Recommendation
Our latest success story is reaching the completion of a home automation project for a Luxury apartment development in the heart of Colombo.
The Client
AKDA is a multimillion dollar construction company involved in off shore construction, Building and installations of Petroleum storage tanks, Marine Barge construction, with operations in Maldives and Sri Lanka.
They expanded their business to a new market by investing in real-estate projects. Their preliminary project was to design and build a modern multistory story luxury apartment complex, comprising of six apartments, gymnasium and pool with roof top garden. Their goal was to introduce and incorporate state of the art building management systems to the design blueprints in an effort to building a new concept of new luxury housing. After consulting with ELBMS and reviewing our project proposal which comprised of new to market high tech energy management systems, ELBMS was chosen as the desired building management systems provider.
The ELBMS Solution
We recommended an integrated home automation system, designed to control every aspect of lighting, sound and cooling options within the apartment.
This Home Automation system is designed specifically for the residential market. It enables homeowners to better manage basic functions such as lighting, heating, air conditioning, and security and appliance control. And what's even better is that helps reduce energy thus save cost on your electricity bills.
Collaborating with our partners in the UK we successfully designed the concept, implemented the project and still continue to provide our services in monitoring and managing the systems.
This experience has given us the ability to provide unique solutions to our customers in various fields: building automation and security, installation systems & control, power monitoring & control, critical power & cooling services.